You can add your organization name, organization logo, and your preferred custom URL to your professional account. After adding the organization name and logo, it will get displayed in all pages of your professional account. Customers who are joining your meeting sessions, will only see your company name and logo displayed on the session details page as shown below.
fig.1.10
Add your organization name
You can add your organization name by clicking on the edit button near to the Organization Name menu in the company profile page. Enter your organization name in the text box displayed and click on 'Add' to add your organization name. Once you click 'Save', your organization name will get displayed in account. Default organization name will be Zoho Meeting, if you don't add your organization name.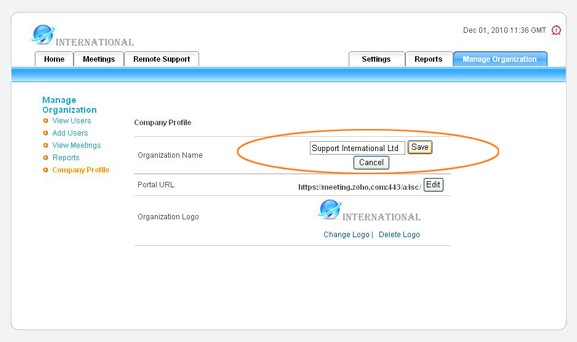 fig.1.11
Add your logo using the link
Change Logo
. You can browse your system and upload your logo. The size of the logo should be 175 (Width) x 35 (Height) in pixels and the image file size should not exceed 500KB. The format of the image file can be anyone of jpg / gif / png / jpeg formats.
You can also remove it and change it later. Default logo will be of Zoho Meeting.
fig.1.12
Add your custom portal URL
You can create a secured portal URL to your account as shown below. Click on the
Create / Edit
button on the Portal URL menu and provide the portal name. The portal name is limited to between characters 'a-z' and '0- 9'. Special characters and upper case are not allowed.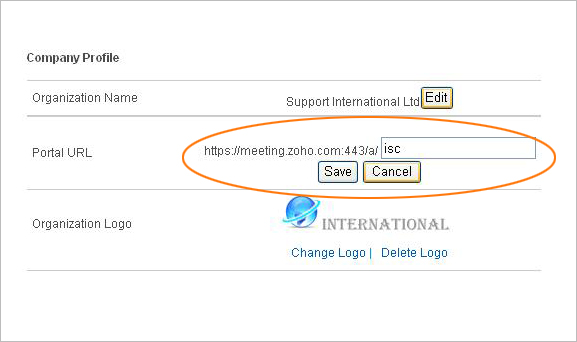 fig.1.13
Once you create your custom portal URL, you can have your portal log-in page with your organization name and logo displayed on it. Your customers can access this page and join your meetings right away by entering their meeting key, as shown below.
fig.1.14
You can see a sample organization page below. This will be your Meeting dashboard once you update your organization name, logo and URL.